event Images
Click to Enlarge.
Percussionist Allen Otte, Concert at Kentler, 2019
Press and Promotion
Concert Program_Sunday, March 12, 4pm (click image to enlarge)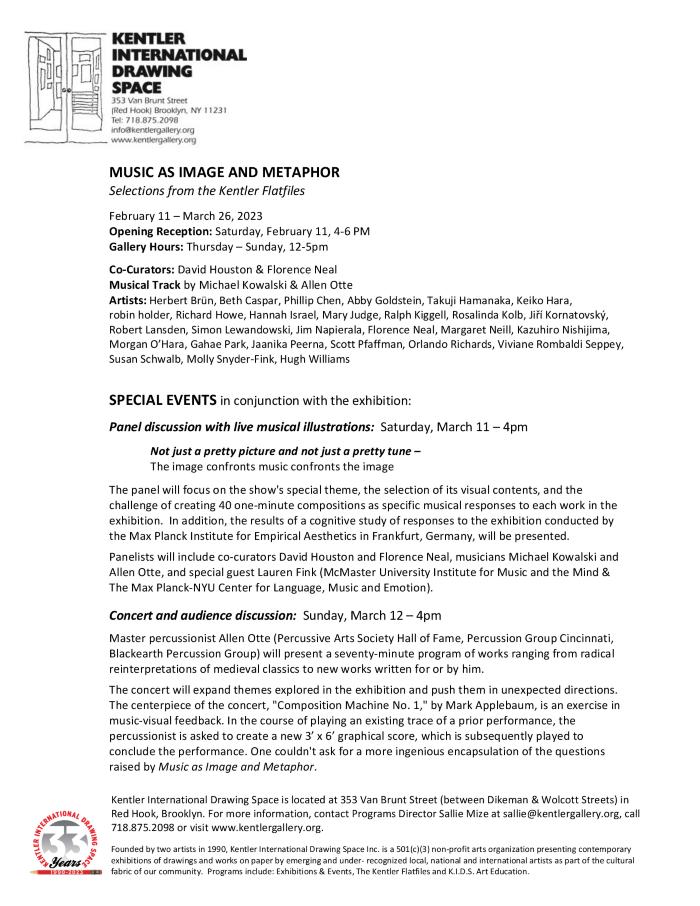 Event Press Release
About the event
Sunday, March 12, 4pm
A concert by percussionist and composer Allen Otte in conjunction with our current exhibition:
MUSIC AS IMAGE AND METAPHOR
Master percussionist Allen Otte (Percussive Arts Society Hall of Fame, Blackearth Percussion Group and The Percussion Group Cincinnati) will present a seventy-minute program of works ranging from radical reinterpretations of medieval classics to new works written for or by him.
The concert will expand themes explored in the exhibition and push them in unexpected directions. The centerpiece of the concert, "Composition Machine No. 1," by Mark Applebaum, is an exercise in music-visual feedback. In the course of playing an existing trace of a prior performance, the percussionist is asked to create a new 3' x 6' graphical score, which is subsequently played to conclude the performance. One couldn't ask for a more ingenious encapsulation of the questions raised by Music as Image and Metaphor.